Two (2) Applied Communication Experts (ACEs) and one (1) Communication Specialist from the Philippines visited the National Institute of Agricultural Sciences (NAS) of Rural Development Administration (RDA), Jeonju, Republic of Korea on May 4, 2022.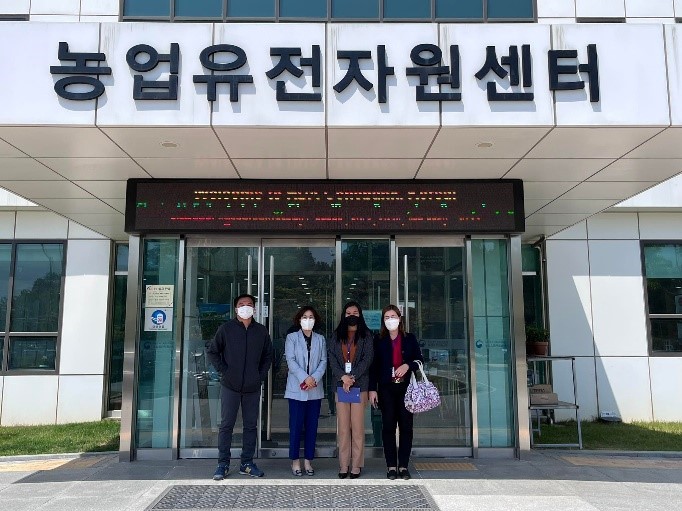 From left-right: Mr. Ivan Layag, the Communication Specialist of AFACI, Dr. LeeHo-Sun, the Deputy Director of Issue Response Team, Ms. Sharie Al-Faiha the out-going ACE of ITCC-IRT, and Mrs. Elmera Y. Bañoc, the incoming ACE of ITCC-IRT
The dispatched Philippine delegation is composed of Mr. Ivan Layag, Information Officer, Department of Agriculture- Fertilizer and Pesticide Authority(DA-FPA) concurrently serving as Communication Specialist at the ITCC-Asian Food and Agriculture Cooperation Initiative (AFACI), Ms. Sharie Al-Faiha Lubang, Senior Science Research Specialist, Philippine Council for Agriculture, Aquatic and Natural Resources Research and Development (PCAARRD) and Ms. Elmera Y. Banoc, Education Research Assistant, Visayas State University (VSU) both are detailed at the RDA-International Technology Cooperation Center-Issue Response Team (RDA-ITCC-IRT) as ACEs.
The visit was part of their exposure opportunities on RDA technologies. The group had a very informative and engaging exhibit experience at the National Institute of Agricultural Sciences (NAS) of RDA. This is the institute that focuses on generation of new income by applying rural resources and maintaining a healthy agricultural ecosystem. It also develops agricultural biological resources to create new growth engines for agriculture and develops crop protection and production techniques for safe agricultural products. It has two (2) main goals: 1) advance basic agricultural technologies and convergence technologies in agribusiness, and 2) strengthen national policies and public technologies. NAS' present administration is guided by "low carbon, green growth" as its vision in doing agricultural research. It has six (6) departments which deal specifically on: 1) agricultural environment, 2) agricultural biology, 3) agro-food safety and crop protection, 4) agricultural engineering, 5) agricultural biotechnology, and 6) agro-food resources.
Several technologies were shown in the exhibit like the soil maps, products derived from silkworm, weather data for crop production, among many others. They were exposed to the R&D that NAS currently undertake in preparation for food shortage or extreme calamities. The researcher from NAS highlighted that the institute is not just focused on developing technologies but also in understanding the social aspects of rural life which include the several decision-making factors of the farmers when engaging in agriculture in order to guide them in developing agricultural innovations.
The exhibit also includes a short video about the future of agriculture in the Republic of Korea. They saw the future of agriculture as highly advanced aided by robotics and Artificial Intelligence (AI). In addition, under NAS, the National Agrobiodiversity Center works on regeneration, multiplication, characterization and evaluation of Plant Genetic Resources (PGRs) as well as the development of massive evaluation technology using state of the art facilities and DNA techniques. Data produced are uploaded and managed in a website (http://www.genebank.rda.go.kr) to promote the use of agricultural genetic resources.
Aside from the integrated information system and PGR M&E, it is also hosting safety back up collections from other countries in its World Seed Vault. It currently has four (4) facilities for storage: a) medium-term (30 years) storage; b) long-term (100 years) storage; c) cryo-preservation (>100 years); and d) DNA bank. The physical structure of the Center as well its best practices to maintain the quality of the germplasm were briefly discussed during the tour.
It holds genetic resources of a total of 9,893 species and 408,455 accessions. Of these, there are 758 accessions on garlic and 357 accessions on onion. Since garlic and onion are recalcitrant seeds, they are stored and propagated using the apical meristem instead of the seed.
The visit was spearheaded by the Deputy Director of RDA Issue Response Team, Dr. Lee Ho-Sun and Ms. Hwang Hyunjeong as the translator.