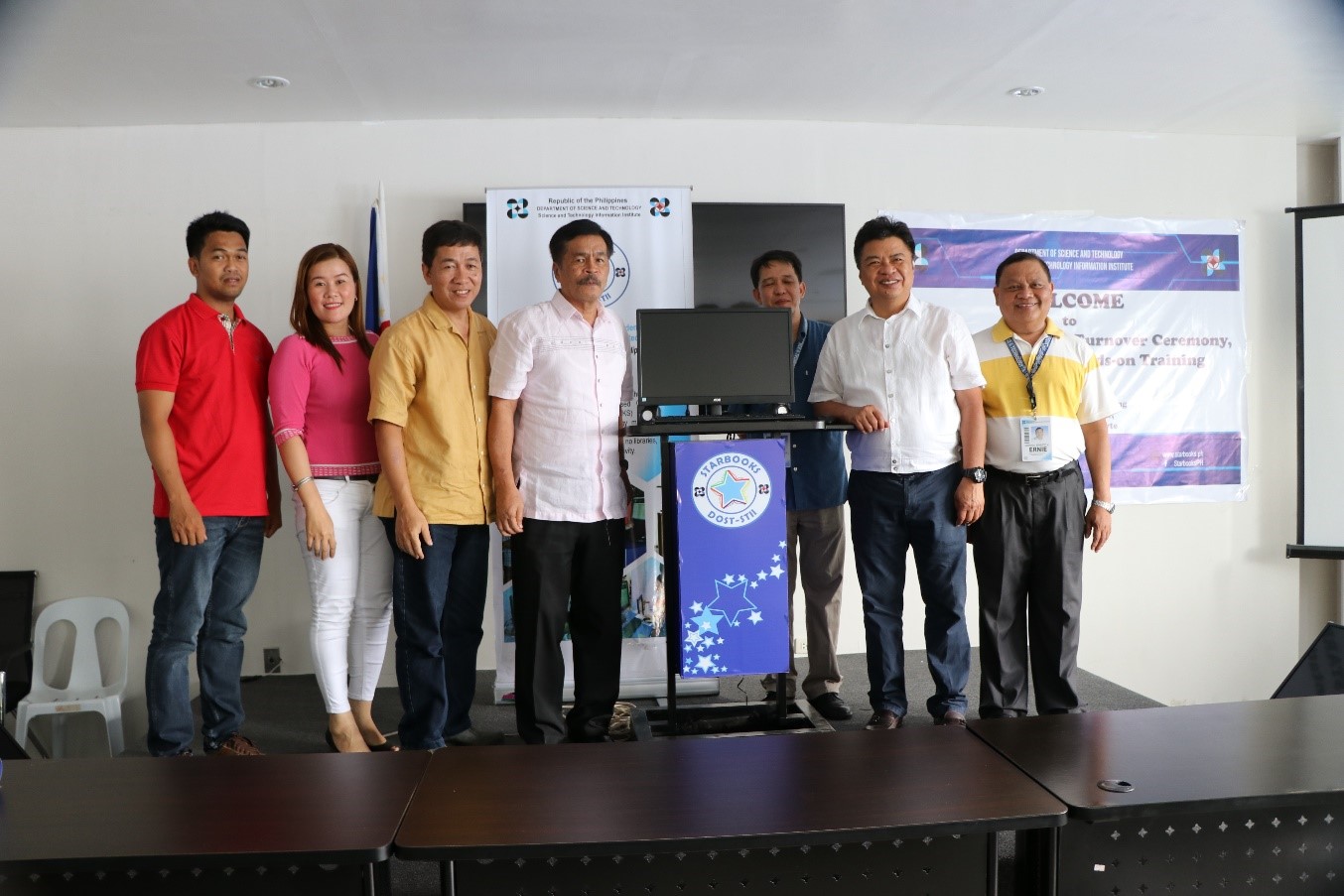 Dr. Othello B. Capuno, VICARP Director, poses during the turnover ceremony of the 1 unit of DOST STARBOOKS. With him (from R-L) Engr. Ernesto M. Granada, ARD-TO; Engr. Edgardo M. Esperancilla, DOST Regional Director; Engr. Florentino L. Quiñones, Jr., STARBOOKS Project Leader; Engr. Sean O. Villagonzalo, KMU-RMIS Coordinator; Ms. Elmera Y. Banoc, RACO Coordinator; Mr. Stephen James Chavez, RMIS staff
The Visayas Consrotium for Agriculture, Aquatic and Natural Resources Program (VICARP) hosted by the Visayas State University (VSU) received one (1) complete package of Science and Technology Academic and Research-based Openly Operated Kiosk System (STARBOOKS) on May 25, 2018 at the DOST 8, Government Center, Candahug, Palo, Leyte.
The STARBOOKS was developed by one of the institutes of the Department of Technology, the Science and Technology Information Institutes (STII). It is dubbed as the first Philippine S and T digital library, it is also a stand-alone information source designed to bring S and T information to the grassroots.
Furthermore, it aims to provide S and T-based educational and learning resources in various formats to geographically-isolated schools, local government units and line agencies throughout the country, as well as enhance the educational competence of the students in its beneficiary schools.
Engr. Edgardo M. Esperancilla, Regional Director of DOST 8, stressed that the initiative of DOST-STII through STARBOOKS has evolved. Last year, the beneficiaries were purely schools, but now, it included the Local Government Units and the Regional Line Agencies of Region 8. To date, a total of 243 units had been distributed to the intended beneficiaries.
The STARBOOKS contains the following: DOSTkarte Livelihood Videos, Interactive Science and Math Courseware, Disaster Mitigation, DOST Technologies, Educational Videos, DOST Publications, Library Materials, Philippine Men and Women of Science and the Region 8 Interactive Information.
Engr. Florentino L. Quiñones, the STARBOOKS Project Leader, highlighted the excellent features of the STARBOOKS, namely: (a) It is an offline database but there is an online back-up to render updates, (b) accessible to multiple users and (c) more importantly, it is FREE.
The STARBOOKS has received several awards, both national and international recognitions, since 2015. A recipient of the 2015 American Library Association (ALA) Presidential Citation for International Innovative Library Projects, 2017 Outstanding Library Program of the year, 2017 Gold in Anvil Awards for Public Relations Program and Silver in the Anvil Award for Public Relations Tool: Multimedia/Digital.
"VICARP is very grateful as beneficiary because we can strengthen our services to our clients not only to our students but to our researchers, partner agencies, small and medium entrepreneurs and local farmers. We will strategically position the STARBOOKS unit at the Technomart and Technology Business Incubation Buildings since these two buildings are very accessible to all types of clients," Dr. Capuno emphasized.
This project was materialized through the Typhoon Yolanda Rehabilitation and Recovery Program (YRRP) Fund worth Php12,000,000.00. Other beneficiaries who received the complete package of STARBOOKS during the turnover ceremony included Eastern Visayas State University (EVSU) Graduate School, Department of Education Biliran, Department of Trade and Industry Region 8 (DTI8), Philippine Information Agency Region 8 (PIA8), Sagkahan National High School, Nula Tula Elementary School, Go Negosyo Centers (Maasin, Tacloban, Catarman), Agro-Industrial School, and the Provincial Science and Technology Centers (Northern Samar and Biliran).