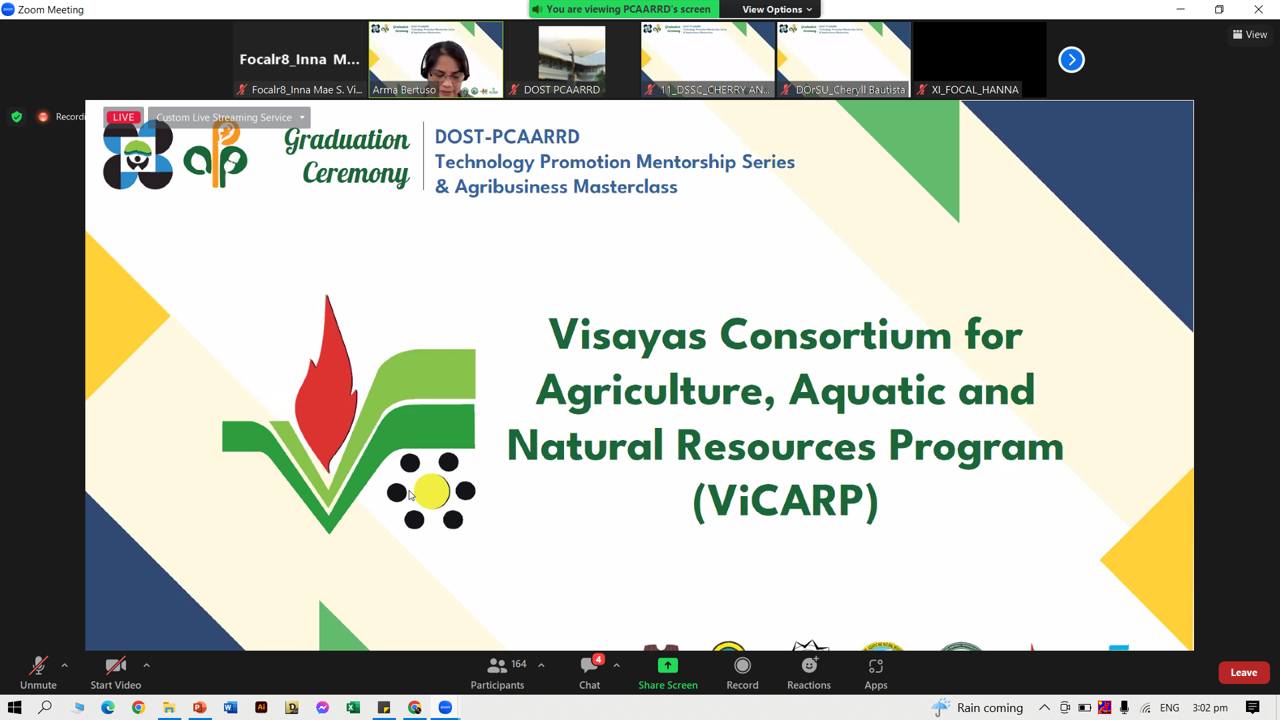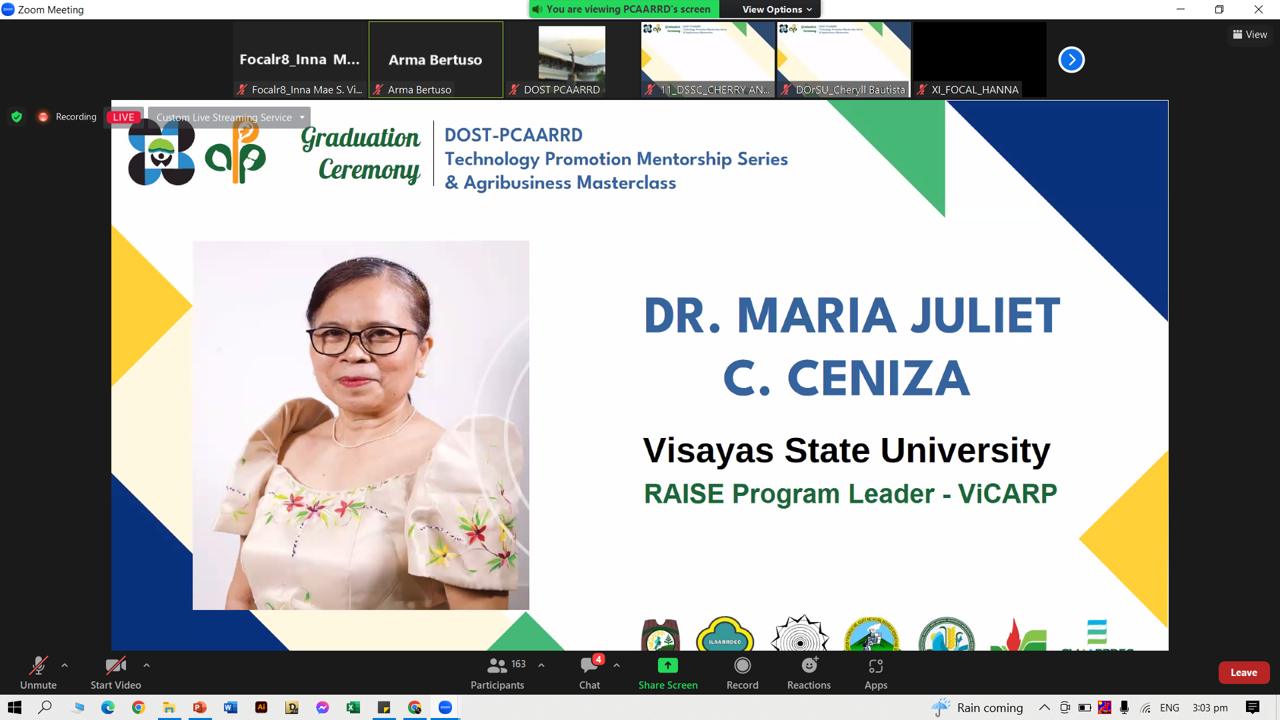 A total of 224 trainees from 56 participating States Universities and Colleges (SUCs), Research and Development Institutes (RDIs) across eight ( 8 ) regions in the Philippines from Cordillera Administrative Region, Ilocos, Southern Tagalog, Bicol, Western Visayas, Central Visayas, Eastern Visayas, and Southern Mindanao regions graduated Technology Promotion Mentorship Series and Agribusiness Master Class held November 18, 2022, via the online platform.
These 10 modules of the training program for the Technology Promotion Mentorship Series (TPMS) and Agribusiness Master Class (ABMC) were conducted online from July to November 2022. This is considered the first and largest graduating class of TPMS and ABMC produced by the Philippine Council for Agriculture, Aquatic and Natural Resources Research and Development of the Science and Technology (DOST-PCAARRD) in partnership with the Association of PAQE Professionals (APP), INC., Licensing Executives Society Philippines, and the Department of Agribusiness Management and Entrepreneurship of the University of the Philippines, Los Baños under the Regional Agri-Aqua Innovation System Enhancement (RAISE) Program.
TPMS participants were trained on the concept of science and technology promotion mentorship and to be effective in communication strategies and digital methodologies of their assigned technology or product. The Poster development action planning challenged them to generate and cluster ideas to come up with coherent Storytelling to sell technology. Designed and created a website prototype and Facebook business page to achieve marketing goals. Conceptualizing a Tech Transfer Canvass to support strategic analysis, decision-making, and training, clearly and effectively. Crafted an effective, compelling Strategic Event Planning to establish an event design that provides outcomes and solves unexpected problems, embracing the risks, and finding new ways to address old challenges were some of the activities during the training. Participants have also culminated with a Pitch Deck and Video Pitch for their technology as final output and preparation for the grandest pitching event this December 6, 2022, the Agri-Aqua Innovation Pitch Fest (#AIPF 2022) "Make Science and Technology (S&T), Your Business Edge".
ABMC participants developed an enterprise plan to commercialize their technology-based start-up business, and utilize management tools and strategies to run a start-up in diverse business circumstances.
The RAISE Program – Eastern Visayas Region headed by Dr. Maria Juliet C. Ceniza congratulates the graduates under ViCARP, who had completed and participated in the said master class.
From Visayas State University
Mary Jane Acosta Serida (TPMS)
Jed Asaph D. Cortes (TPMS)
Julie Bee M. Aguinaldo (ABMC)
Crislin B. Cruz (ABMC)
From Samar State University
Jan Floro Bautista (TPMS & ABMC)
Raven C. Tabiongan (TPMS & ABMC)
From Biliran Province State University
Marianne Agnes T. Mendoza (TPMS & ABMC)
Charlene T. Parac (TPMS)
Michael G. Mendoza (ABMC)
From Eastern Visayas State University
Espiritu Denoy (TPMS & ABMC)
Jeremiah Edison C. Nicart (TPMS & ABMC)
From Southern Leyte State University
Melvin S. Sarsale (TPMS & ABMC)
Mary Ann Jilly R. Ramirez (TPMS & ABMC)
From the University of Eastern Philippines
Korina P. Legaspi (TPMS)
Darleen Joy Udtujan (TPMS)
Eunice L. Lluz (ABMC)
Siony Ubane (ABMC)
CONGRATULATIONS TPMS & ABMC GRADUATES!
#LetsRAISETogether #RAISE8