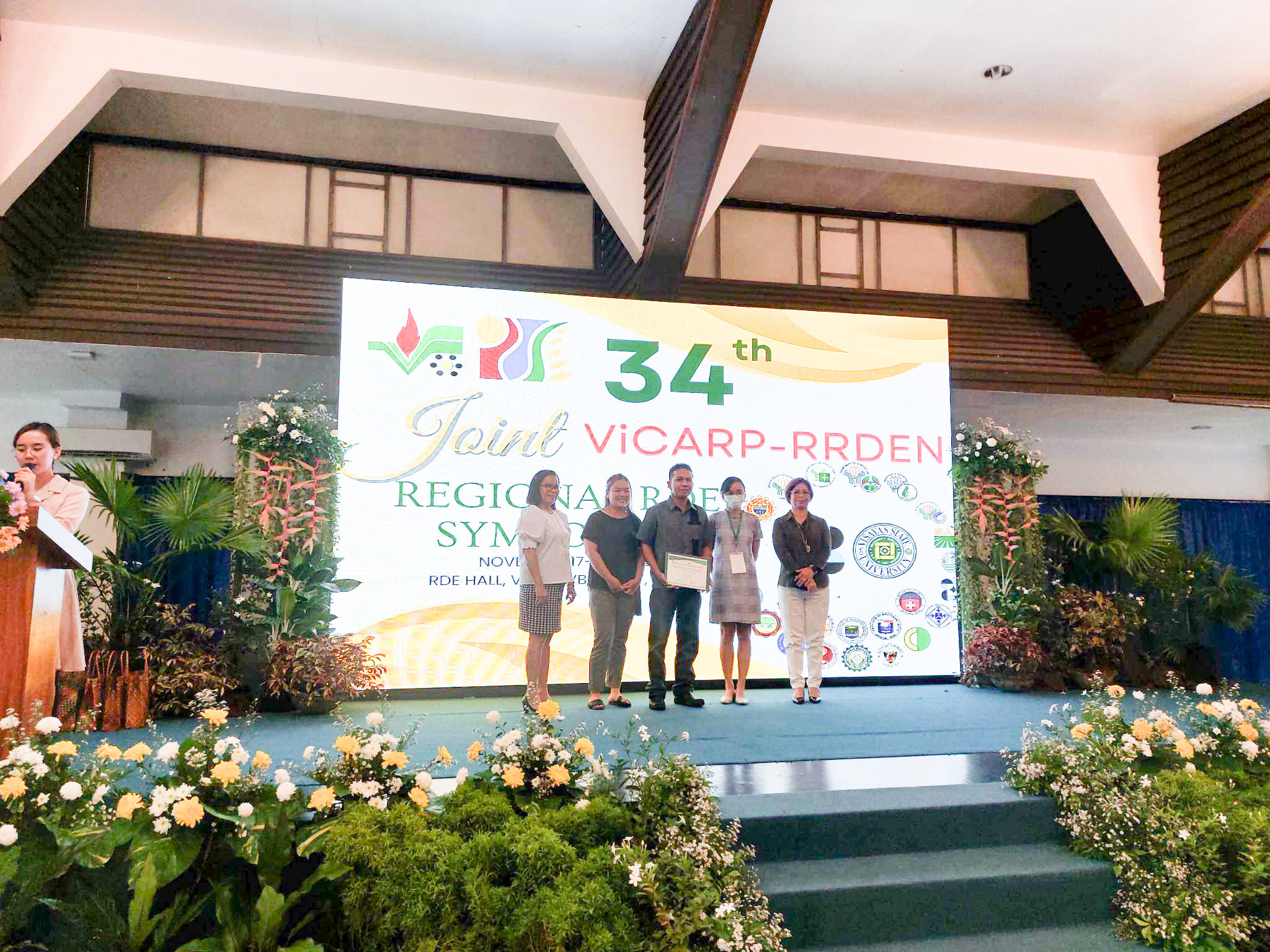 Awarding Ceremony for Outstanding RDE paper in the Development Category during the 34th Regional Research, Development, Extension and Innovation (RDEI) Symposium at the RDE Hall of the VSU in Baybay City, Leyte (Standing L-R: Dr. Ma. Juliet Ceniza, Ms. Divina Villaber, aProf. Marlon Tambis, Ms. Mary Rose Maniego, and Dr. Elvira Torres) (Image credit: Philrootcrops Facebook page)
Written by Polianne Tiamson, DOST-PCAARRD S&T Media Services
The Department of Science and Technology-Philippine Council for Agriculture, Aquatic and Natural Resources Research and Development (DOST-PCAARRD) and the Visayas State University (VSU) project, "Enhancing the Development of Sweetpotato Food Value Chains in Central Luzon, Albay, Leyte, and Samar, and Linkaging with Related Industries, Phase 2" won back-to-back awards at the 34th Regional Research, Development, Extension and Innovation (RDEI) Symposium and the 4th International Conference on Cooperatives (ICOOP2022) both held last November 17-18, 2022.
Dr. Daniel Leslie Tan, Vice President for Administration and Finance, along with his team from the Philippine Rootcrops Research and Training Center (PhilRootcrops), implemented the project to address the gaps in the sweetpotato value chain, building on the results of the S&T-based Sweetpotato Value Chain Development for Food in Tarlac, Albay, Leyte, and Samar (Phase 1) project.
To strengthen the microenterprises and value chains developed in its previous phase, the project implemented interventions through a value chain approach. Among its notable accomplishments are the optimized vacuum fryer that was improved and refined for mechanized and zero-waste processing systems and novel products like the vacuum-fried SP-35 orange sweetpotato. Sweetpotato trimmings and tubers are also being used to make wine, grates, flour, and powder. For the implementation of the processing system, collaborations were established with various groups such as the Cassava Growers and Processors Association (CAGAPA) in Dapitan City, Zamboanga del Norte; Alameda Farm in San Agustin, Surigao Del Sur; and the Polomolok Samahang Nayon in Polomolok, South Cotabato. It was also revealed that value chains anchored by association have seen significant improvements.
Prof. Marlon Tambis, a member of the team, presented their initiative at the 34th RDEI Symposium and at the ICOOP2022 to demonstrate their approach, highlight their accomplishments, and discuss their findings. During the symposium, the team won the Outstanding RDE Paper in the Development Category as awarded by the Visayas Consortium for Agriculture, Aquatic and Natural Resources Program (ViCARP) and the Regional Research and Development/Extension Network (RRDEN). The event took place at the RDE Hall of the VSU in Baybay City, Leyte.
Simultaneously, the Institute of Cooperatives and Bio-Enterprise Development (ICOPED), the lead academic unit of the University of the Philippines Los Baños (UPLB) for cooperative education, extension, research, and public service, conferred the Best Paper Award to the team at the ICOOP2022 held via Zoom and Facebook Live.
Earlier this year, the "Portable Vacuum Fryer," another output of the project, also bagged second place in the Outstanding Utility Model (Unlad Award) Category during the National Invention Contest and Exhibits (NICE) of the Technology Application and Promotion Institute of the Department of Science and Technology (DOST-TAPI).